VFW "Buddy" Poppy Program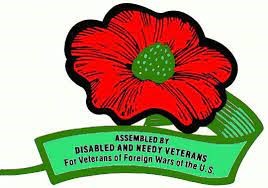 The Poppy movement was inspired by Canadian Army Col. John McCrae's famous poem, "In Flanders Fields." Poppies were originally distributed by the Franco-American Children's League to benefit children in the devastated areas of France and Belgium following WWI.
In Flanders Fields
In Flanders Fields, the poppies blow
Between the crosses, row on row,
That mark our place; and in the sky
The larks, still bravely singing, fly
Scarce heard amid the guns below
We are the dead. Short days ago
We lived, felt dawn, saw sunset glow,
Loved and were loved, and now we lie,
In Flanders fields.
Take up our quarrel with the foe;
To you from failing hands we throw
The torch; be yours to hold it high.
If ye break faith with us who die
We shall not sleep, though poppies grow
In Flanders fields
In 1922, VFW conducted a campaign and got Poppies from France. In a very short time, it became logistically impractical to keep getting the Poppies from France. The VFW came up with a better solution. Disabled, hospitalized and aging veterans could make the paper flowers and ship them out to VFW members for distribution.
Since 1922, the "Buddy" poppy has been an integral part of the VFW community. As the VFW's official memorial flower, the Buddy Poppy represents the blood shed by American service members and their sacrifices.
All donation collected during a Buddy Poppy drive shall be deposited into the VFW Post Relief Fund. The Relief Fund can only be used to assist veterans in need and their dependents. Active-Duty personnel that needs assistance and to support Youth and Educational programs.
VFW Post 970 will normally have their Buddy Poppy Drives the weekend before the following dates: Presidents Day, Memorial Day, Independence Day, Veterans Day, Pearl Harbor Day.
Calvin Yonamine
VFW Post 970
Buddy Poppy Committee Chair
Email buddypoppy@vfwpost970.org